Further.Space Luxury Pod
These luxury 'glamping' pods are not like any other. Designed to feel like 'a hotel room in the wilds', the challenge was to create an interior that was both multi-functional and super-glamorous. The curved shape of the interior presented a serious design challenge, as did the long list of requirements for a tourist board-approved facility. The end result has a chic style all of its own. This prototype is now set to be rolled out in locations the length and breadth of Ireland. Check out further.space online for more information!
Further.Space developer
Peter Farquharson of Further.Space standing proudly outside the finished prototype pod.
Space saving sleep
The curved walls of the pod created a design challenge when it came to fitting out the interior. The solution came in the form of a cleverly designed bulkhead wall which not only incorporates a fold out double bed but also cleverly hides a dressing area and a small kitchen. A striking, palm leaf design wallpaper in shades of navy and mint green contrasts boldly with the birch ply of the pod interior.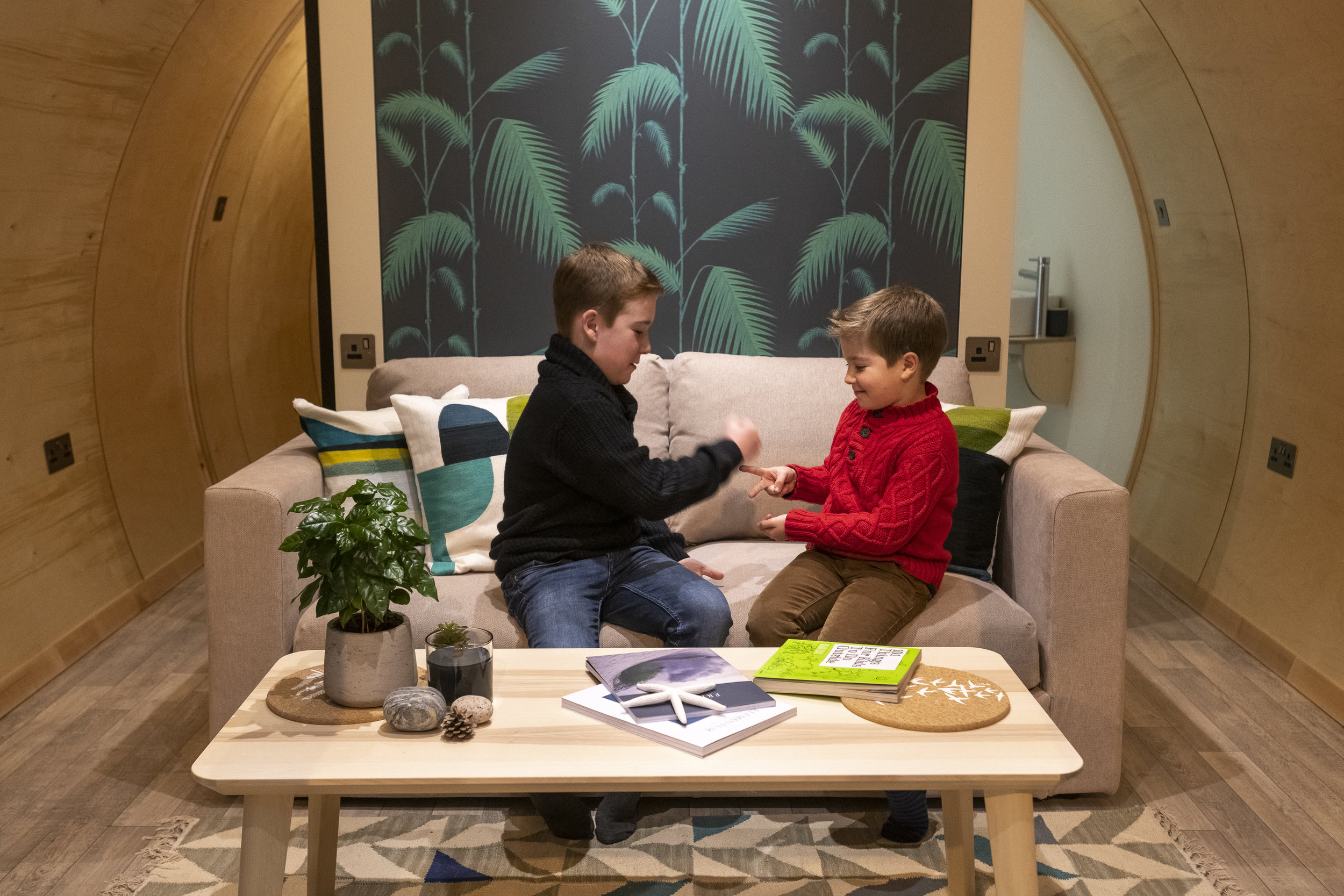 Stylish seating
The wall bed was designed to completely disappear when not in use leaving a full size sofa underneath. The wallpaper was repeated on the underside of the bed (now the backdrop to the sofa) to create a striking focal point whether the bed is down or hidden. The wallpaper colours are picked up in scatter cushions and rug, as well as through leafy plants.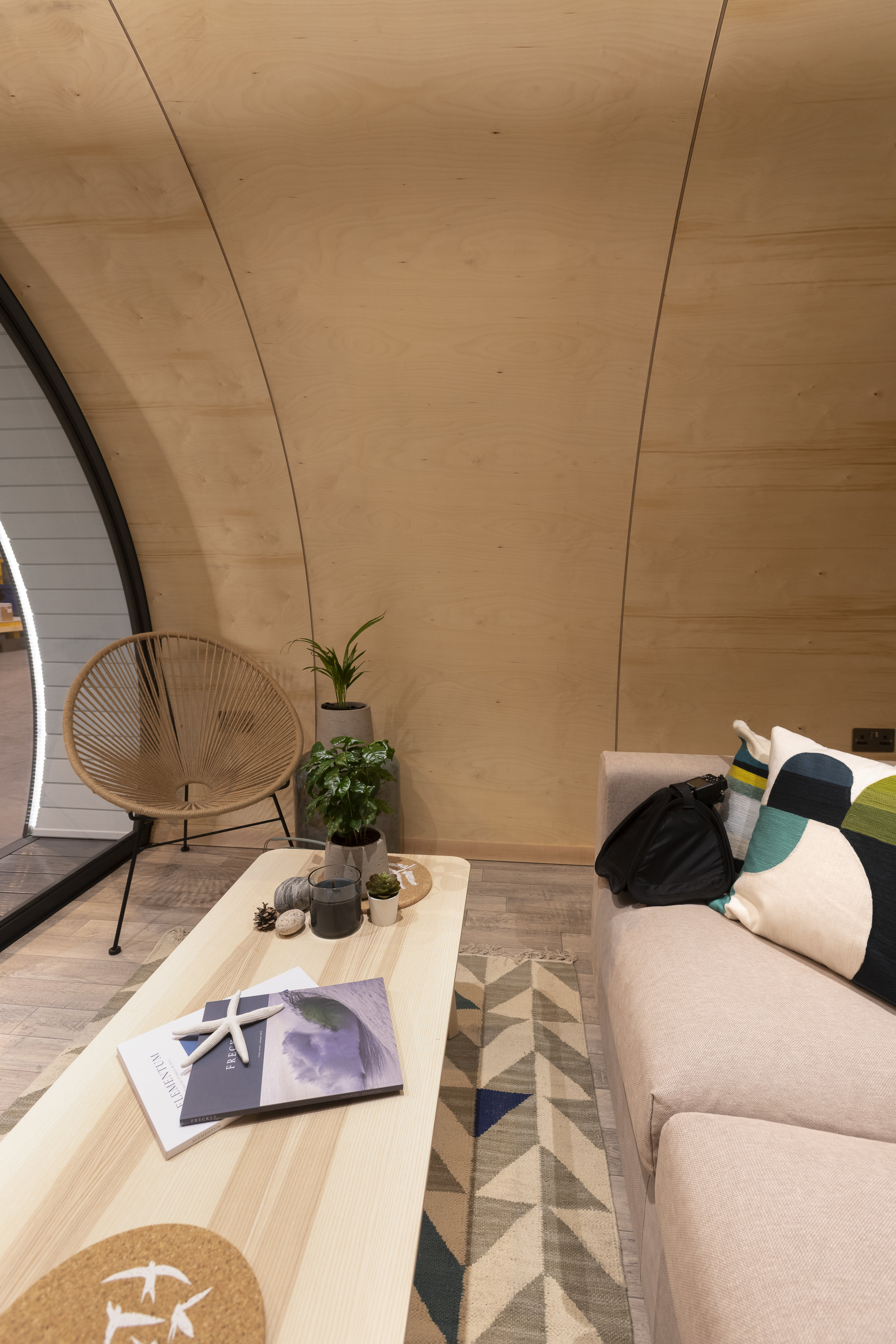 Curve appeal
The curved walls of the pod make for a uniquely framed view, wherever it may be situated. Equally shapely string chairs are sited in front of this view creating a stylish and comfortable place from which to watch the world go by. The materials used throughout this interior - string, jute, concrete, linen, wool - are all designed to feel as earthy and natural as possible and to complement the exposed birch ply structure.
Bunk room
The curved end of the pod cleverly houses custom-built bunks. Birch ply, crisp white linen and wool blankets enhance the pod's organic feel.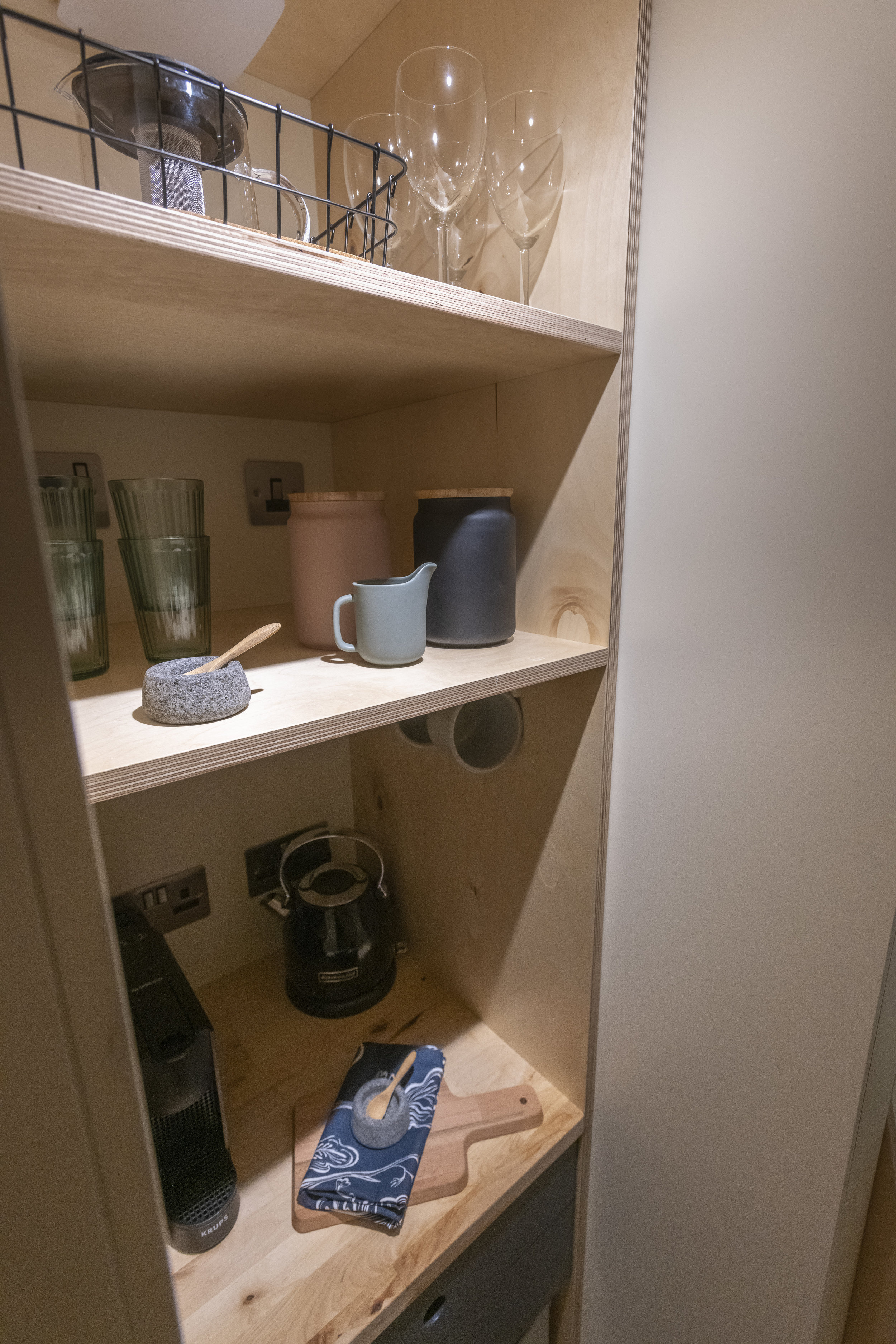 Concealed kitchen
The custom designed bulkhead wall that houses the bed also allows space behind for a small kitchen area. Accessories were carefully selected in shades that would complement the colour scheme of the whole pod. Drawers were finished in a dark navy to match the feature wallpaper.
Bathed in beauty
The curved end of the pod is split in two, half housing the bunk room and the other half housing a shower room. With a full size shower, WC and basin this does not feel like a typical glamping experience but instead has all the luxury of a hotel bathroom.